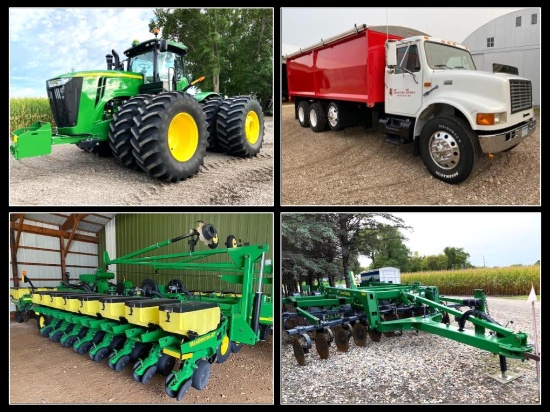 SWANSON FARMS INVENTORY REDUCTION FARM EQUIPMENT
Bidding Begins Monday, November 9, 2020 | 6:00 PM Central
Until bidding begins.

Description
Exceptional Like New John Deere Farm Equipment - 2013 John Deere 9410R 4WD Tractor, 877 Actual One Owner Hrs!
Thank you for logging in and participating in this auction, we appreciate your business! Terms for this auction: 10% Online Buyer's Premium with a $1000 cap per item. All purchases or multiple purchases totaling under $2,000.00 will be paid for by a good business or personal check, cash or credit card (with a 5% fee for credit cards). All purchases over $2,000.00 will have to be paid for by wire transfer (with a $25 fee) If you cannot meet these terms, please do not bid. Once the item is sold it is solely your responsibility for payment and pickup, no exceptions!

Inspection Friday, Nov 13th 12:00 Noon to 4:00 P.M. or by Appt.

Equipment has had the best of care!! Always waxed and washed on major units and stored inside. John Deere Equipment was Purchased new from Haug Imp (JD Dealer)., Willmar, MN

250 HP DT 466, Eaton Fuller 9 Speed Transmission, 221,345 Pre Harvest Miles, 3 Stage Hoist, Rear Remote, Lo Pro 22.5 on Steel Rears, Hub Pilot, 315/80R22.5 Fronts on Alum, Agri-Cover Roll Tarp, LED Lights, Air Ride, 3 Pc End gate, California Truck, Never Driven in MN Winters, 3 Yr Old Turbo, Super Sharp Unit, Exceptionally Clean, Always Shedded, Vin 1HTSHAAR9XH626536

TOUCH SCREEN DISPLAY, 4 SCV, CAT 4 DRAWBAR, PREMIUM HID LIGHTS, DUAL BEAM RADAR, 800/70R38 DUALS, (6) 450#, (2) 165#, (4) 1400# WHEEL WEIGHTS, TOOL BOX, STURD-E-BUILT HD ROCK BOX, HEAVY STEER PIN, HD GUDGEON BEARING, SN 1RW9410RPDP006852, 877 PRE HARVEST HOURS, ONE OF THE LAST PRE-DEF 9410R BUILT, GPS RECEIVER NOT INCLUDED AS PICTURED, BOUGHT NEW AT HAUG IMP, WILLMAR, LIKE NEW, ALWAYS SHEDDED, EXCEPTIONALLY CLEAN!!

ALWAYS SHEDDED, SN 038557

SHARK TOOTH ROW CLEANERS, AIR UP/DOWN, HYD DRIVE, 3 BU BOXES, PRO SHAFT, PRO MAX 40 CORN/SOY SEED DISKS, APPROX 3000 ACRES ON PLANTER!!, BOUGHT NEW AT HAUG IMP OF WILLMAR, LIKE NEW, ALWAYS SHEDDED!, SN 1A0DB44XABG745107

7" PERMA-LOC SHOVELS, (83) 200# SHANKS, BOUGHT NEW AT HAUG IMP, WILLMAR, SN 1N02210LLA0740244

MA1420 3 BAR HARROW WITH 26" TINES, SN 1N02700XLB0740311

Closed Lots